Hello, readers!
Did March fly by for you, too? It certainly feels like it's flown by for us and that we were just talking about the books that captivated us in February. And next week, you're telling us it's going to be April?
Yeah, our minds are blown, too.

JOYCE: 
Currently Reading: 
I'll be honest, I'm taking my time with this (although  that's what I seem to say with every book I enjoy). But the final installment of the Rebel of the Sands trilogy, HERO AT THE FALL,  is so intricately plotted with its usual inventive twists and turns, and so vividly imagined with its rich mythical world and spunky protagonist you cant help but root for (she's come a long way since book one) I JUST DON'T WANT THIS BOOK TO END! I've had the pleasure of speaking to the author, Alwyn Hamilton, herself about her writing process and you might be surprised to know that she actually doesn't have critique partners, just a couple of friends she constantly bounces ideas off while writing in order to work out the kinks in her story!
Looking Forward To: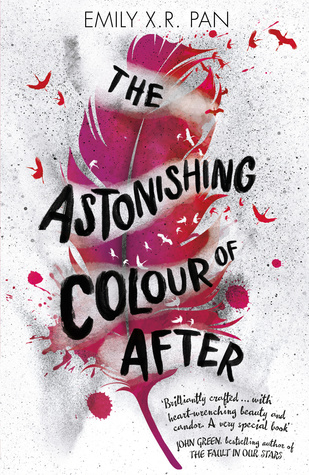 THE ASTONISHING COLOUR OF AFTER by Emily X.R. Pan looks like it will deliver the best kind of heartache with its tale about a girl who learns about grief, loss, hope, and owning her identity. Also, yay to more diverse books and books written by POCs!!
NICOLE:
Currently Reading: So, thanks to the public library, I've currently been on a romance reading "kick" (if you can count two books in a row as a kick). I just finished Heart on Fire by Amanda Bouchet this week and friends, that entire book was fantastic. When I was trying to pick out what to read next, I remembered I still haven't finished Bec McMaster's fantastic London Steampunk series, so I just started the fifth and last installment, Of Silk and Steam. I'm worried that I've forgotten a lot of what's going on, in the overarching political plot, but I'm excited to get back into it.
 Looking Forward To: After Of Silk and Steam, I'm not sure what I'm going to read next! I know I have one book I need to pick up from the library, Age of Swords by Michael J. Sullivan, which I'm pretty excited to read. Yet I also have a couple of romance novels collecting dust on my shelves that have yet to have their spines broken in. I dunno, I may continue that trend until it actually becomes a kick!
MEREDITH: Unfortunately, our third Muse didn't have a lot of time to read this month, because she was busy battling the good and tough fight known as life (but trust us: she's winning). Hopefully April will be a little kinder and time a little freer, so she can join us for the next round-up!

See any of your favorites on this list? Any books pique your interest? Any books you think we should be reading? Let us know in the comments!